Ngomongin soal iPad, gadget canggih ala Apple ini memang gak akan pernah ada habisnya. Sebut saja gosip akan kemunculan iPad mini dan iPhone 5 akan segera hadir, telah banyak di nanti-nantikan oleh para konsumen.  Hasil survei yang pernah dilakukan kepada 5000 konsumen ternyata game sangat populer di iPad. Selain bentuknya yang fashionable ternyata banyak sekali artikel-artikel yang membahas cara mudah merawat iPad, ini sangat banyak membantu para konsumen dalam menjaga performa iPad meraka.
Berbeda dengan kebanyakan komputer netbook maupun notebook, perangkat tablet iPad buatan Apple didukung jajaran aplikasi baru yang bisa dinikmati penggunannya. Tentu ada yang gratis, tak sedikit yang berbayar.
Apple sendiri telah membenamkan aplikasi bawaannya seperti browser Safari untuk akses internet, Maps untuk peta dan navigasi, iBooks untuk membawa e-book, iPod untuk menikmati musik, iTunes untuk belanja konten, video player, kalender, dan sebagainya.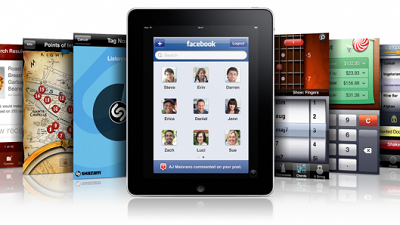 Para pengembang aplikasi pun telah banyak yang menyatakan dukungannya untuk membuat aplikasi di iPad. Dengan platform yang sama dengan iPhone, pengembangan aplikasi di iPad diprediksi bakal terus bertambah dari hari ke hari. Bahkan, Apple memastikan secara teknis semua aplikasi yang berjalan di iPhone pada dasarnya juga jalan di iPad.
[adsense]
Beberapa aplikasi iPad yang telah di optimasi dengan layar yang lebih lebar daripada iPhone. Aplikasi-aplikasi utama yang bekerja di iPad antara lain:
Kindle App for iPad dari Amazon dot com untuk mengakses e-book dari Kindle Store yang berjumlah 450.000.
Game Call of Duty dari Activision yang menampilkan grafis tinggi.
eBay yang menyediakan pasar online dengan didesain khusus untuk memberikan pengalaman berbelanja yang nyaman di iPad.
Netflix dengan aplikasi nonton TV dan film secara online melalui internet dengan tarif 8,99 sebulan.
The New york Times, USA Today, dan Wall Street Journal yang dioptimalkan untuk layar iPad.
Walt Disney Co dengan aplikasi TV, game, buku, dan komik Marvel yang sudah tersedia sebanyak 500 buah.
Party-Pad Marvle Mixer dari GameHouse
Game-game buatan Electronics Arts seperti Scrabble, Tetris, dan Need for Speed Shift.
Aplikasi Dragon Dictation dari Nuance Communication.
Zagat to Go sebagai pemandu restoran dengan tarif 9,99 dollar AS.
Citrix GoToMeeting untuk meeting online.
Apartment Guide dari Primedia
Beberapa aplikasi iPad diatas dijamin adapat berjalan dengan baik dalam sistem operasi iPad kerena telah di optimasi sedemikian rupa oleh tim pengembang dari Apple Inc.