Yahoo Messenger 11 with Zynga games
Are you Farmville or Mafia wars addict? Yes, the popular games will be available on new Yahoo messenger 11 as well. It seems that Farmville is not available yet but you can enjoy other games like Fishville, Mafia Wars, Balloono, Pool and much more. Yahoo messenger 11 will bring popular social games on your IM. There are many options and reasons to fall in love with this new messenger. You can also share your score and goodies with your friends on Facebook. This is great as you can chat with your Yahoo buddies along with favorite games.
Facebook and Twitter Integration
There are more reasons to use new Yahoo messenger 11. You can simultaneously update your social networking accounts like Facebook and Twitter. Yahoo has struck the gold with integrating one of the most popular social networking websites with the new features. If this is not enough then you can now enjoy chatting with your Facebook friends. This is especially useful as Facebook doesn't have any official desktop IM client.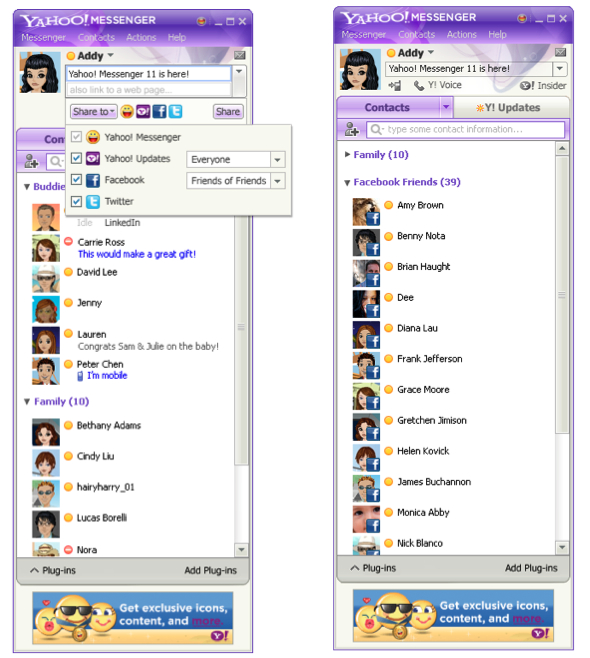 Chat with Facebook Friends on Yahoo Messenger 11
Step 1: Download Yahoo Messenger 11 Yahoo! Messenger 11 – Chat, Instant message, SMS, Video Call, PC Calls
http://messenger.yahoo.com/beta/win
Step 2: Sing in to your Yahoo account. Now Y! Updates tab or this link to link your Facebook and Twitter account.
http://hotfile.com/dl/98202908/06c08a0/YahooMessenger_11_Install_Offline.rar.html
More features of Yahoo Messenger 11
The new Yahoo Messenger 11 is not all about social networking and gamin integration. Now, you can enjoy signing in multiple PCs. Yahoo Messenger 11 for android will also be available with photo sharing feature