Sesuai dengan judulnya How to Make GMail with Space 8GB as Local Storage, kali ini saya mau sedikit berbagi cerita terlebih dulu… Awalnya karena kebutuhan akan data-data kantor yang masih perlu saya kerjakan dirumah. Karena repot setiap hari harus copy paste data dari Flashdisk antara komputer kantor dengan komputer rumah, akhirnya saya coba cari cara untuk memudahkan saya menyimpan data dalam satu tempat yang dapat diakses dari 2 lokasi tersebut, yaitu kantor dan rumah.
Karena Google yang sangat baik hati tersebut memberikan space yang cukup besar pada email saya (kurang lebih 8 GB), jadinya saya coba manfaatkan kebaikan hati google ini sebagai virtual drive saya. Jadi selesai pekerjaan di kantor dan ingin saya lanjutkan kembali dirumah, saya taruh saja file tersebut di dalam drive virtual gmail dan akan saya akses lagi dirumah nantinya.
Untuk menggunakan fasilitas ini saya menggunakan GMail Drive, Anda dapat mendownload dan menemukan versi terakhirnya dialamat, http://www.viksoe.dk/code/gmail.htm
Saya menggunakannya pada windows 7 dan tools ini belum compatible untuk versi 64-bit.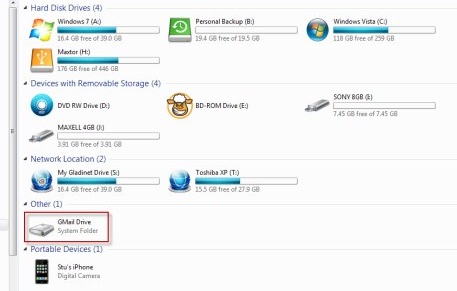 Sip… tools ini sangat bermanfaat bagi saya dan mudah-mudahan dapat bermanfaat juga buat Anda…
.